Read below to choose the class options that work best for you.  Stay active and connected to your SweatSister community!
Choose the class and workout options that work best for you.  Stay active and connected to your SweatSister community!
We are Open and Operating.  Learn more below!

A Letter to Our Members
To our beautiful tribe of women at Transformations,
We know the past weeks have been full of uncertainty.  We are all adjusting to this new "normal" and it can be overwhelming.
Our staff wants you to know we are in this with you.  We are facing the same struggles, feeling the same feelings, and praying all of this will settle soon.
We have scrambled behind the scenes to adapt quickly to the situation so that we can stay connected with you and help you stay active.  Exercise boosts our immune system, improves our mood, and decreases our stress levels.   All of which can truly make a difference under the given circumstances.
We are here to support you however we can.  We are now offering LIVE Classes via Zoom everyday. There are links to at-home workouts on our website, Facebook Pages and YouTube pages.  We have sent emails full of information and options.  If you need assistance with anything, do not hesitate to contact us via the form below or by phone.  We are here to help keep you active and happy!
We humbly share that we are doing all we can to earn your support during this crisis.  Thousands of dollars are still due for rent, utilities, phone/internet services, insurance, licensing fees, etc.  Without membership dues, we have no source of income to survive this storm.
Those continuing their memberships will receive an extension to make up for this missed time.  For now, we are here for you.  Tell us what you need.  We will continue to work hard every single day and fight to keep this amazing tribe of women together!  #sweatsisters
Virtual Personal Training
Workout with your favorite Personal Trainer on your schedule, tailored to your needs!  Just $25 per session with the option to rent equipment for FREE!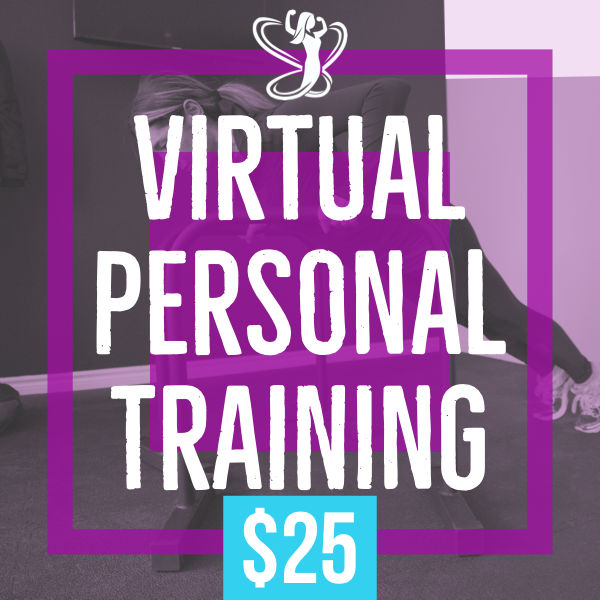 LIVE Classes offered daily!
Joining us for a LIVE Class is easy and uses simple technology–one click and you're in!
Members may request our Zoom login by filling out the Contact Us Form (above).
Nonmembers may request a VIRTUAL MEMBERSHIP and have access to daily LIVE Classes and 100s of workouts available to stream at your convenience.
Stream 100s of Workout Options
Our members now have access to Mossa Move.  This allows you to stream some of your favorite workouts from any device.  Try Centergy, Fight, Groove, Blast, Power and a few other programs in the comfort of your own home.  Click here for 14-Day access to MossaMOVE

Our partners at Les Mills have also created a free site streaming some of their popular classes. Find them here! MEMBERS: Les Mills is extending their entire catalog of online workouts. Click the link specific to your location to gain access.  Managers will verify your account standing. These workouts are available now through May 31st.
Our trainers are also busy creating body weight-only workouts for our members.  View them on our YouTube Channel.  We offer several HIIT-style workouts and demonstrate options for all fitness levels just like our classes!
BUTI YOGA Fans!  Beth and Nicole have set up a site where you can stream their Buti Yoga Classes. www.butiyoga.com/pages/transformations
passcode: 2020xtransformyz!?
Stay connected via our member emails, our Facebook Pages, our Sweat Sisterhood groups and our Instagram Pages to receive updates on fitness options!
Click to join the Sweat Sisterhood of Odenton   Click to join the Sweat Sisterhood of Pasadena
Mandated to MOVE Contest - Earn points and stay healthy from the safety of your home
Need a little motivation during the shutdown? We've got a friendly contest you can win from the safety of your home.  Winners announced weekly!  Join one of our PRIVATE Facebook groups below to get started.
Click to join the Sweat Sisterhood of Odenton   Click to join the Sweat Sisterhood of Pasadena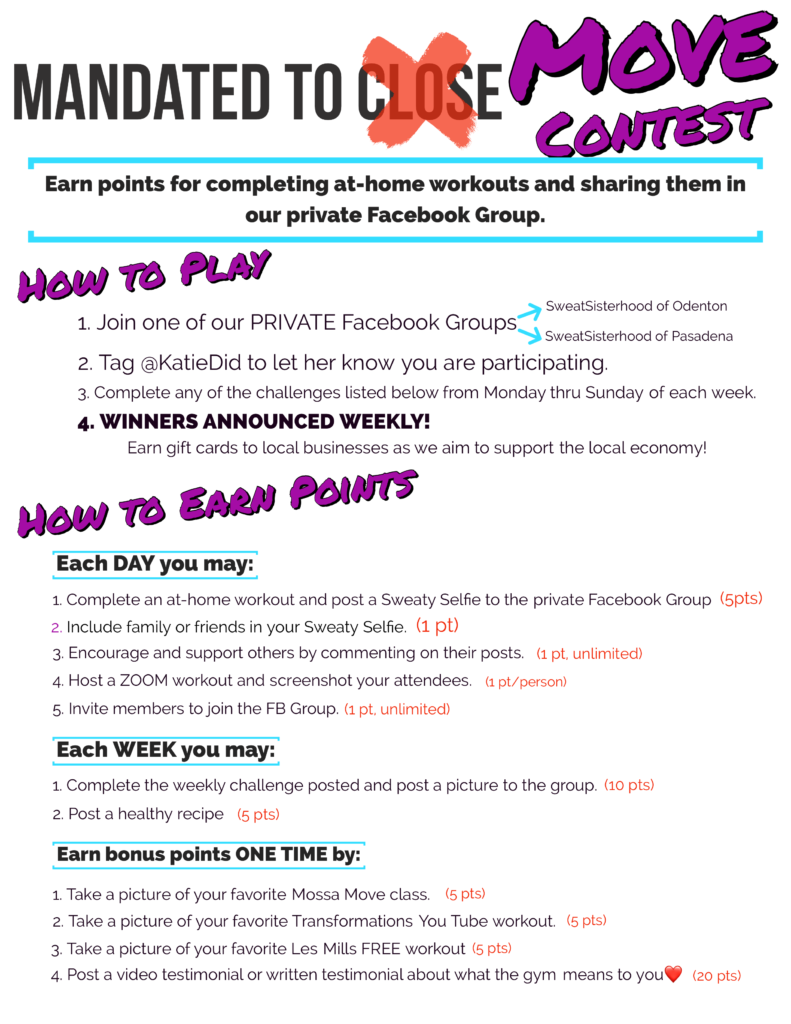 Prescription Weight Loss & B-12 Shots
Per Governor Hogan's mandate, effective March 30th, we will suspend the Prescription Weight Loss Program and B-12 shots.  We will be in contact with patients when non-emergency medical appointments are permitted to occur. 
Thank you for your patience and understanding.  We look forward to being able to serve you again soon!
16 Classes in 60 Days Incentive
For those working toward taking 16 classes in 60 days, your time will be extended to account for the shutdown.  
M.O.R.E. Challenge
The M.O.R.E. Nutrition challenge is still underway.  Although we are unable to do the meal prep tutorial in person on March 22, support, weekly topics, menus, recipe, grocery lists and meal prep plans will be available via the Facebook group.
Biggest Loser Contest
The Biggest Loser Contest will continue on, but without the mandatory weekly weigh-ins.  Keep eating healthy and exercising.  
The contest end date has been postponed.  The final weigh-in will now take place 2 weeks after we re-open.  $500 is still up for grabs!  What a great way to stay motivated to watch your diet and stay active while in quarantine.  
Stay tuned for a re-open date.  
Transformations for Women – Pasadena, MD
8043-C Ritchie Highway
Pasadena, MD 21122
Phone: (410) 582-9505
Transformations for Women – Odenton, MD
2288 Bluewater Blvd
Odenton, MD 21113
Phone: (410) 674-7403
Contact Us
Have Questions? We are happy to help! Simply complete the form below or call the location nearest you and one of our dedicated staff members will assist you.